Traditional Wood Trophy Cabinets for Collectibles & Merchandise
Sorry, nothing is currently available here. More may be back in stock soon! For more details or help finding alternatives please contact us via phone or live chat during operating hours.
---
Wood Display Cabinets - Transitional Wooden Curio Cabinetry for Home & Retail Use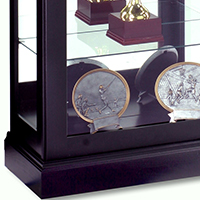 Are traditional wood trophy cabinets the best answer for your display needs? These attractive but durable award cases are an elegant addition to any home or business environment. Traditional wood trophy cabinets are available with and without interior lighting, carved decorative molding, swinging or sliding doors, mirrored backing, conventional or tempered glass, and more. This transitional display cabinetry comes in wall mount, freestanding, and corner configuration. These stylish and upscale-looking traditional wood trophy cabinets are surprisingly affordable considering the array of stylish details that set them apart from other styles. Whether choosing lighted or non-lighted models, this line of merchandise offers a superb and varied selection of display cabinetry for all types of items. The traditional wood trophy cabinet styles offered here include wall-mounted exhibits and corner curio holders in addition to conventional free-standing cases. This elegant furniture for memorabilia is perfectly suited for the dining room, board room, school conference room, and everywhere in between. Wood trophy cabinet styles are ideal for valuables, memorabilia, collectibles and of course, awards. Wooden models are framed in a number of rich finish shades that complement any home or business decor. As part of our extensive selection of affordable display furniture, we offer memorabilia and award showcases in a variety of styles and sizes to meet any need. The well-made units are economically priced to sell.
In what sizes and styles are conventional wooden showcases available?
Traditional wood trophy cabinets for memorabilia are available in wide, narrow, large, and small (wall-mount models are the smallest, at 20" wide).
Corner cases for collectibles measure up to 28" wide and fit nicely in the corner of a living room or shop.
Narrow displays for curio measure up to 34" in width. These memorabilia and awards cases are perfect for smaller rooms.
Mid-range exhibits for trophies and awards are sized up to 42" wide and perfect in home, office, school, or store.
Large wooden showcases for big livingrooms, retail showrooms, and institutional spaces measure up to 50". A collection of school sports memorabilia or sporting club plaques is ideal for this style enclosure.
Largest showroom displays for libraries, hotels, and galleries measure up to 75" in width. With such a large selection, there is an award showcase for every size room and for every size collection!
This type of wood display cabinetry for residential or commercial use is often called "Transitional" style. The combination of ornate decorative elements with modern features and clean lines means that these models can be matched to almost any location or environment. The "China Cabinet" is a furniture style that has been in vogue for centuries, and this modern version combines the elegant look of a vintage furniture piece with the solid construction of a modern store fixture. Residential use of this type of display case frequently includes use for the storage, display and protection of collectibles, from heirloom dishware to pottery to antiques to ornaments, jewelry and of course, trophies. Many families find that these glass enclosures themselves become family heirlooms, passed from generation to generation along with their contents. The affordable traditional wooden showcases shown here are made to be enjoyed for many years.
The wooden showcases featured here are from our respected Howard Miller collection, which sets itself apart from competitors by design, building material, size, style, functionality, and ease of use. These wood display cases are constructed using solid hardwood and veneers. Deep, rich finish colors will complement any selection of collectibles or treasure stored within, and can be matched to any décor color scheme and style. The narrow width of these models allows them to fit easily into residential environments in a variety of locations. In addition to the usual dining room displays of vintage flatware and dishes, these models are ideal for displaying a variety of other collectibles and treasures, from sporting trophies in a den to antiques or memorabilia in a family room or home office. In addition to their convenient size, these decorative display cases offer modern details such as side-sliding glass front access doors, built-in top-lighting, mirrored backing, cushioned metal shelf clips and built in adjustable floor levelers. Ornate detailing on the various models includes carved pediments and decorative molding, architectural bases, crystal-etched grooved glass front panels, mirrored backing and glass shelves. Each china cabinet is fully assembled in our warehouses prior to shipping. The free-standing models arrive ready to use with only shelf set-up and floor leveling needed for perfect, custom installation in any environment. Unlike furniture pieces that require complicated setup, these ornate traditional wooden showcases for residential use are ready to go from the time they are unpacked, reducing the chance of accidental damage during installation.
To make choosing the right traditional style memorabilia holder easier, we have separated this main department into smaller categories based on the size of the display needed. What size merchandising case do you need depends on the area in which you want to place your fixture, and the merchandise that you want to exhibit. Private collectors and specialty retail stores often have collections of smaller items such as glass animals, porcelain or lego figurines. These small collectibles may get lost in a large china cabinet. That's where the wall mount units come in handy. Not only will the wall mounted showcase highlight smaller merchandise in a way that it will be easily noticed, but the wall mount exhibit case also does not require room for a floor standing unit. That is especially nice when you already have a room full of furniture but want to showcase your special collections.
Corner units and narrow display cabinets are perfect choices for smaller rooms or areas that have little space for extra furniture or fixtures. These tall showroom displays allow for the promotion of a large variety of collectibles and unique pieces so you can showcase them in a special way. You could present these pieces on top of your existing furniture, but that won't shield the displayed collectibles from dust and also leaves them open to mishandling. As most of this showroom furniture includes a lock, these corner and narrow exhibits help you keep your sentimental displayed collectibles in pristine condition.
Mid-range trophy display cabinetry sizes are perfect for housing smaller collections in small or medium sized rooms. These units, sized to 42" in width, provide a great amount of area in one small space to hold and display a great number of objects. With features such as adjustable height shelves, lights, locks, and more these memorabilia holders and retail store cabinets make it easy to show off any number of merchandise. Their middle-of-the-road size makes them easier to fit into an already furnished room. Organizations such as schools and clubs, businesses or museums with historical displays often prefer these types of trophy cases with wall or floor mount.
Wide and extra-wide award cases are for larger areas. This display cabinetry needs a lot of space, but provides ample area to promote objects or show off trophies and will showcase any larger collection. Often seen in great rooms, foyers, upscale retail establishments and even board-rooms these collection displays have great features, as well. With options such as locking doors, lights, plate grooves, and more, these larger showcases are perfect for exhibiting a complete set of china, large numbers of collectible pieces, league or club trophies, awards, and so much more. While several of these classic glass retail cabinetry have an elegant design that fits best in a more upscale setting, some have a simpler design that works well in any retail environment. There is no better way to separate visual displays than with extra-big exhibit curio positioned back-to-back and side-by-side!
Classic wooden framed exhibit cases for memorabilia may or may not be equipped with interior lighting. Interior lighting is not necessary in brightly lit rooms, but may be needed in rooms with low light. Some of these show pieces include top canopy lighting that shines the light downward to brighten the entire unit. With these curio cases, the light at the top is often brighter than the light at the base. For some, a mirrored deck is included to help reflect the light upward, which does have the effect of brightening the lower shelves. Others include both canopy lighting and side track lighting. This wooden cabinetry is the most brightly lit and really makes the displayed merchandise visible. Our selection provides a complete line of classic designed showroom displays with and without lighting in our online catalog. Buy lighted glass and wooden store cases for home or retail use and enjoy a high end look at an affordable price. Each of these displays is economically priced with an elegant, upscale appearance.