Countertop Showcases in Aluminum, Wood, & Frameless Styles
---
Countertop Sports Memorabilia Display Cases for Single Items and Small Collections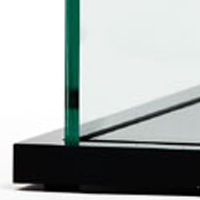 Looking for countertop showcases that will draw attention to treasured or valuable merchandise or collectibles? These small trophy display cases are ideal for this purpose in any type of environment. Whether displaying a treasured award, collectible or autographed baseball, football, porcelain figurine, priceless antique, or expensive sale item, a small awards cabinet protects and draws attention to its contents. Versatile countertop showcases, also known as sports memorabilia display cabinetry, protect valuables and are frequently used in schools, private residential collections, and retail establishments. Professionals use this collectibles furniture to highlight special merchandise, statues, or credentials. Commercial quality countertop showcases, like the acrylic enclosures shown here, are available in a variety of sizes designed to hold anything from a single autographed baseball to a full-size trophy or china doll, boxing glove or preserved wedding bouquet. Valuables of any kind should generally be handled as little as possible to reduce damage from dust, fingerprints or simple wear and tear, not to mention potential breakage. Our acrylic or glass collectible holders highlight treasures of all sizes and types, offering the protective qualities of expensive glass at economical prices.
What differentiates one small trophy display case from another in this selection?
Countertop showcases come in a variety of configurations. Some are made of acrylic with removable risers, while others are made from glass. Although not as shatter-proof as tempered glass, the MDF and polystyrene units are very durable and feature attractive designs. While they are made of plastic, the plastic is clear and provides an excellent view of the displayed collectibles. Acrylic collectors display cases are especially good in children's rooms or areas that have high traffic. They are also perfect for business displays or displays that are in areas that have little supervision, such as libraries or hallways. Even an elementary school or high school will benefit from the use of a sturdy plastic display cabinet that protects school treasures from accidental damage.
We also offer certain models that feature tempered glass in their construction. Tempered glass, although generally more expensive than acrylic, is manufactured so that, in the event that the glass is broken, it will not splinter into sharp shards. This is the type used in car windshields and windows and breaks into more rounded pieces, rather than sharp shards, for safety's sake.) Collectible display cases are great for home use in living rooms and dens as well as in retail, commercial and professional settings. As the glass is tempered, these showcases are also a great choice for secondary school and college applications. Galleries and museums, as well as other places that receive significant public traffic, appreciate the additional safety provided by the use of tempered glass enclosures.
There are other differences such as wood bases versus acrylic bases and framed design versus frameless. The frame-style collectors display case may have silver or black aluminum edging. The base chosen is generally a measure of the look you want to portray. Wooden bases or wood-look bases appear more upscale and are ideal for living rooms and professional settings. The wood-look countertop glass display case systems are also great in a school or upscale retail environment. The simple acrylic base is great for more casual settings such as bedrooms and classrooms.
The frameless collectors display cases, also known as full vision display cabinets, give an all-around view of the displayed collectible. Frameless models may feature squared sides or rounded sides. While the framed models do not provide clear view from every angle, they do allow for a collectible to be easily seen despite the frames, as the frames are usually narrow.
A single-item collectors display case also may include a detachable ball holder or removable riser. Our polystyrene memorabilia displays holders are the perfect resting place for an autographed baseball, football, hockey puck or other collectible. A larger small trophy case that comes with a removable ball cradle is the perfect gift for the basketball, football or soccer enthusiast, or for specialty retailers to showcase autographed items.
A final point of difference is in shape and size. Exhibit holders for trophies are sold in many sizes and shapes. Small showcases that are shaped uniquely are often used for special memorabilia such as baseballs, helmets, hockey pucks or basketballs; even shooters. Others are sized for a commemorative or autographed football or model ship. Still others are shaped for vases, dolls or even wine bottles.
An awards display cabinet is not just for trophies. Memorabilia and trophy cases for home are useful for exhibiting an array of collectibles. Sports memorabilia is one category of merchandise that is ideal for display in these countertop exhibit holders. Doll collectors use tabletop displays as well. While the showcase is perfect for trophies and other awards, it is also an ideal size for exhibiting bottles, figurines, vases, model ships, collectible daggers, and much more. With the multitude of sizes and styles available, there is a showcase for every collector or sports fan! These awards showcases for trophies and more are used in retail establishments, professional settings, and school buildings. They hold trophies, awards, and much more. Engineered for durability, these retail display cabinets with the great features described above are the perfect choice for the exhibition of personal treasures.
Find a model that includes a detachable ball cradle or includes a case with acrylic riser to further accentuate your exhibited treasure. While the glass and plastic showcases highlighted in this category are ideal for keeping memorabilia and collectibles clean and will deter unwanted handling of your prized possessions, they do not lock and thus are not suited to hold valuables in areas that are unsupervised. For these merchandise items, we recommend lockable display cabinets, which are in one of the other categories featured in our online catalog. Choose one or more of these countershop showcases for personal collected items and used and antique goods for sale in shops to ensure they will be noticed and protected.