Tower Display Case for Commercial and Home Use with Frameless Design
---
Tower Style Display Cases for Retail, Professional and Residential Collections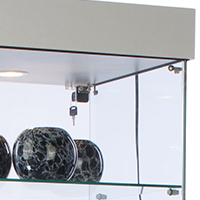 Are you looking for a tower display case to highlight collectibles, merchandise, trophies, awards, and other prized memorabilia in a way that is perfect for business or home environments? Featured in this selection of award showcases are beautiful pieces of furniture that complement the décor of every home, office, retail showroom or gallery. This finely crafted tower display case, also known as narrow-width curio cabinet, is an ideal way to create visually enticing collections of trophies, merchandise, awards and collectibles. This freestanding trophy holder is less than 27" wide and designed to fit into spaces that larger award showcases cannot. Our tempered glass tower display cases can be used as freestanding units or against a wall. Available in a wide variety of design, material, and color options, with and without security, lighting, and mobility, the versatile, full view curio cabinets beautifully enhance retail, commercial, and residential décor.
What styles of award showcases are available at this online store?
Tower display case designs vary for this narrow width fixture with full views, available in a multitude of sizes, with a rectangular, round, or square design with a simple or an ornate frame.
Construction impacts cost; solid wood cabinets are often seen in homes, professional offices, & high end showrooms, while affordable wood-look cabinetry with tempered glass shelves are in demand in galleries and shops.
Finishes run the gamut from wood (cherry, maple, rosewood, and oak) whether for contemporary or traditional décor, to painted MDF in neutral colors like silver and black that inject a modern vibe into a store showroom or gallery.
Halogen lighting is an appealing option for retail stores, museums, and home, putting all the focus on small, expensive, or new merchandise so it can be seen. Residential buyers may also take advantage of lighting to highlight treasured memorabilia or more delicate items.
Locks are an ideal feature in a retail setting provide security in museums, galleries, and high-end retail stores, while residential cabinets may be fine with less expensive, non-locking, swing-open doors.
Wheels come in handy in showrooms where exhibits are changed frequently; since they are hidden, they won't spoil the appearance of your showroom. Wheels are often not needed if the display case is part of a permanent exhibit.
With numerous collections to choose from in our commercial line, each category is grouped according to its own unique style and attributes to help ease the selection process. The vast array of showcases are sized from 21" to 24" wide, in round, rectangular, and square base designs. From frameless award cabinets by Grace Tyler without lighting, to the EuroVu collection including EuroVu Simplice, EuroVu Originale, and EuroVu Moderno models, these showcases offer low-profile decorative details to draw the eye to items displayed so they will be purchased, or in the case of museum exhibits, seen. Our California line features units with hidden wheels that make updating store décor easy, without sacrificing style. Additional brands represented in this line include DIY Essentials, Tecno Display, and MRC Frameless - each has something unique to offer, from top and side halogen lighting, to mirrored deck for extra reflectivity, so your space looks just right.
When deciding on which school or retail showcase you need, you must consider where the unit is to be placed in a room. For example, if the award display case is to be placed against the wall, you may not want a frameless fixture. Exhibition furniture with a mirrored or other backing is just fine to bring accessories and collectibles out of the shadows. If the retail showcase is to be more centrally located, then consider a glass enclosure that allows the contents to be seen from all angles.
Lighting is another important consideration. If the room is well lit, then a lighted cabinet may not be necessary. If the room is not well let, such as in a large school atrium or hallway, then a lighted showcase shows off the contents better than an unlighted fixture. In addition to simply providing illumination, interior lights can serve to draw attention to specific articles for gallery or retail displays.
A high-visibility exhibit for awards and trophies that locks is a necessity when the cabinet is placed in a well-used location, especially if there is little supervision of the contents. Locking a cabinet keeps honest people honest and gives shop owners and school administrators peace of mind knowing that the contents are secure from unwanted handling and/or theft.
These popular exhibit pieces for smaller spaces are the perfect choice for retail, professional, school and home settings. Often seen in jewelry stores and school offices, the display fixtures provide a secure resting place for trophies, awards, collectibles, smaller electronics, jewelry, and much more. To make shopping easier, our product line is separated into categories. Our category selections include these narrow 18" to 25" wide curio cabinets as well as mid-range and wide width trophy showcases. Also included are a wall-mounted exhibit case system, countertop cabinets, pedestal displays, and flag holders. Upscale curio fixtures, such as this solid wood case, can be found in our Howard Miller collection. Our European line of full vision cabinetry for collectibles offers durable laminated MDF construction as an affordable quality alterative to wooden fixtures.