Rectangular Trophy Display Towers for Collectibles and Sale Goods
---
Tall Rectangular Display Cabinets for Commercial or Home Displays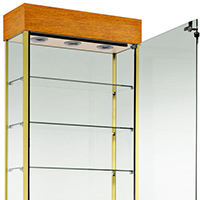 These rectangulartrophy display towers, also known as awards showcases, are towering displays with five glass shelves. The shelves and outer case are constructed with tempered glass. Why choose a rectangular trophy display tower constructed with tempered glass? This type of cabinet for awards, merchandise or trophies is a safer case than those made with traditional annealed glass. These commercial-grade rectangular trophy display towers use tempered glass that shatters into round pieces that are safer to clean up than sharp shards. These awards cases have black, silver, or wood grain laminate canopies and bases. Laminated fixtures are an economical alternative to solid wood construction. In addition, each of these models offers lighting options to create the perfect housing for any collection.
What finishes are available with these merchandise display fixtures?
Our tall rectangular trophy display towers are available in both natural and neutral finish colors. The silver cabinets are an excellent choice for a more modern décor. These units include a silver MDF canopy and base as well as aluminum framing that runs up each corner of the cabinet.
The black laminate models are also great for more modern decors. These durable cabinets are also perfect for decors with an Asian inspire. These models include a black canopy and base as well as black framing that runs up each corner of the cabinet.
More traditional colors mimic the look of traditional wood construction. Cherry, oak, maple, and rosewood are great perfect choices for both modern and vintage decors. These fine trophy cabinets are also ideal for both upscale and casual settings. The cherry, oak, and rosewood models include gold tone framing. The maple units feature silver tone framing. With the many colors to choose from, it is easy to match these exhibit cases with the furnishings presently in a showroom.
A display cabinet engineered for trophies does not have to be used just for trophies. Although trophies and awards look nice within the confines of these cabinets, their versatile structure makes them the ideal exhibit cases for a large number of merchandise. Retailers find these display cabinets for awards and trophies to be a secure exhibit case for small electronic equipment, jewelry, sports memorabilia, vases, figurines, antiques, and other collectibles. The locking doors ensure a secure display that prohibits unwanted entrance into the cabinet. The top lighting, also called canopy lighting, provides a bright exhibit area that highlights the showcased merchandise. The mirrored decks accentuate this lighting causing it to reflect back up the display case. The durable base will last through years of day-to-day use and abuse, making the display cabinet ideal for retail and school settings.
These rectangular trophy towers with locking door are more modern than conventional. They are great for retail, school, professional, and even home environments. With a thin width, these narrow trophy cabinets for sale online are available with anodized aluminum framing and may have a silver, wood grain, or black melamine finish. The anodized framing on these rectangular trophy exhibit cases is thin allowing for a full view of all display objects. Like our square towers w/ interior top lighting and/or track lighting, any one of the models shown here ships within two weeks. Peruse our online catalog now to view our entire selection of quality exhibit cases all for sale at low, wholesale prices!