Round Trophy Display Towers with Lighting Options come in Elegant Finish Shades
Sorry, nothing is currently available here. More may be back in stock soon! For more details or help finding alternatives please contact us via phone or live chat during operating hours.
---
Narrow Width Round Trophy Cases for Freestanding or Corner Displays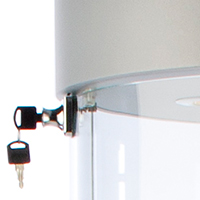 These round trophy display towers are perfect for corner displays. The unique design makes these awards showcases appear virtually frameless. What makes the round case with high visibility design so great? They may be placed almost anywhere in a showroom, making them extremely versatile fixtures for any environment. Elegantly lit round display towers with built-in top or side lighting are excellent choices for a variety of retail environments. The elegant and space-saving design also make this style well suited to home or office use as well. The tempered glass structure features laminated bases and tops that are available in a variety of rich wood-look finishes as well as stylish black and silver neutral shades.
What is the difference between a trophy display using canopy lights only and one with both top and side lighting?
Choosing the round trophy display tower is best for your setting is dependent upon room lighting. If you have a well-lit room, either from light fixtures or sunlight, you may like a display case with just top lighting. If your room is darker, then the curio case with both canopy and side lighting is best for you.
Extra lighting is also ideal for highlighting displayed objects or collectibles. While the mirrored base helps to reflect the top canopy lighting throughout the entire display, the side lighting ensures that each shelf is lit uniformly.
These virtually frameless awards showcases for trophies provide a 360° view of the contents of the display cabinet. As they have a small size, they are ideal displays for smaller rooms. They easily fit into any corner, but may also be used in a central area of the room as a freestanding fixture. The hidden wheels on these display cabinets provide mobility, which allows for this showcase to be moved to wherever it is needed. This is a very helpful feature for those that rearrange displays to provide maximum exposure to all objects.
These awards showcases are great for so many settings. As mentioned earlier, they are the perfect displays for retail establishments that sell smaller merchandise. The narrow diameter cases will draw attention to electronic equipment, fragile merchandise, and more! They are often found in smaller retail shops and in electronics and collectibles departments in department stores. They are great for retail sports memorabilia shops, school offices and atriums, jewelry stores, galleries, and much more, as their unique shape offers customers a full 360-degree view of contents. Their rich and elegant finish colors make them the perfect choice for both casual and upscale settings.
One important feature that cannot be overlooked is the curved tempered glass construction. Tempered glass is the same type of glass that is used in automobile windshields. This glass has been reinforced for safety without taking away from its clarity. In the unlikely event that this glass is broken, it will shatter into round pieces rather than sharp shards. This makes these display cabinets safer for both customers and staff. No worries about deep cuts from long sharp pieces of broken glass. While care must still be taken when cleaning up the glass, the danger of cuts is lessened when the pieces are rounded.
These display cases for trophies are not the only narrow cases we offer in our online catalog. Also included are thin rectangular cases; economy cabinets; and square and hexagonal models. Featured lines in include the Howard Miller collection of fine wood cabinets, the Grace Tyler line of retail showcases, and the EuroVu Simplice, Originale, and Moderno display cabinets. Other categories included in our easy to navigate online catalog include conventional wood models, mid-range and wide cabinets, pedestal style curio cases, wall mounted units, countertop displays, and flag cases.