Square Narrow Tower Display Cases offer up to 24 Inch Wide Full Vision Shelving
---
Narrow Width Square Tower Display Cases for Store, School or Home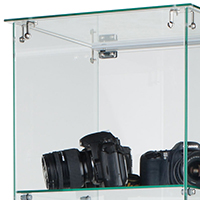 Is this square narrow tower display case the right style for your needs? The tall, thin styling of each model in this category is ideal for showcasing luxury or high-value items as well as collectibles. The retail square narrow tower display case selections featured here with high quality construction materials and clean, European design lines are ideal for both professional and residential presentation. While many of our other secure enclosures for retail use have architectural-type detailing that draws the eye, the elegant and understated style shown here ensures that viewer focus will be on the contents, not the container. Each square narrow tower display case, also called a tall glass showcase, is made using tempered glass with aluminum framing and melamine laminate. The laminated top and base are available in several finishes that will coordinate with and compliment any décor. In addition, this line features built-in lighting. Every model includes halogen lights that will provide soft yet clear illumination of all contents. Additionally, side track-lighting is available with spotlights located along two sides of the cabinet if desired. The tall, full-vision style is manufactured in a narrow width that is ideal for smaller spaces.
Where is this style glass showcase best used?
A square narrow tower display case is, first and foremost, perfectly suited for retail use. Often seen in jewelry stores, candle shops, and collectible and antique stores, these exhibition-style enclosures may be used for more than just awards and trophies.
While these commercial grade fixtures with built-in lighting and locking hinged doors make ideal retail glass showcases for stores, they are also great for schools and other institutions. A narrow single-column full vision display case is perfect for schools looking to showcase student accomplishments, whether awards, trophy collections, or artwork. These floor or wall fixtures are ideal for public and private schools, universities and other organizations.
Each economical glass showcase also makes an impact in a professional or office setting. This style portable display case has wheels that allow a business to show off their products in a lobby or even highlight the trophies and accomplishments their employees receive throughout the year, but be moved out of the way for safekeeping or functions as needed.
Fixed shelves made of tempered glass make these cases ideal for museum or gallery settings as well. The hinged doors include secure plunger locks that will protect valuable exhibits of anything from jewelry to antiquities to collectibles. A free-standing full-vision tower display cabinet can be used in any location and will give patrons and customers a 360° view of the objects inside.
What separates these cases from other trophy, jewelry or collectible enclosures?
Tempered glass fixed shelves and walls are safer than traditional annealed glass. This specially engineered material is impact-resistant, but if breakage does occur the resulting pieces are small and rounded rather than sharp, making it ideal for public use.
Each of these free standing tower display cabinets has built-in hidden wheels to make moving the fixtures easy. Unlike fixed wall units or stationary cases, this style full vision cabinet can be moved as needed. This type of flexibility is perfect for gallery-type locations that change internal layouts frequently.
The full vision style provides 360-degree visibility for all contents, unlike other styles with only glass fronts. This makes this style appropriate for use either mid-floor as a free-standing unit or placed against a wall.
Built-in halogen lighting is cost-effective as well as providing soft, even illumination. The tempered glass shelves allow the halogen bulbs to shine light through the entire showcase, while the mirrored bases reflect the light upward to enhance brightness. Optional track lights add additional brightness and make these displays the perfect choice for low-lit rooms or high-contrast contents.
A sturdy plunger lock secures the hinged doors and eliminates unauthorized access to the contents. Each fixture includes two keys to protect contents, from a school trophy display to a selection of big-ticket jewelry to luxury accessories to a treasured set of lego or porcelain figurines.
The majority of models in this line of tower display cabinets are "Quick Ship" merchandise, ideal for retail and school applications that frequently need fast delivery. Each case is 85% assembled in our warehouse prior to order. Upon order we complete the fabrication process and ship them within 4 days. While we offer this fast shipping for most models, a few do not quality. Those that do not qualify ship within two weeks of purchase.
This style of portable trophy, exhibit or retail jewelry enclosure with fixed shelves is ideal for cost-conscious businesses. For those that require more space to exhibit objects or just a different style cabinet, we offer many other styles and sizes. Our comprehensive inventory allows customers to shop by size — narrow cases, mid-range cases, and wide cases — or by shape: thin rectangular, rectangular, hexagonal, circular, and oval. We even include separate categories for pedestal bases that mount on the wall or countertop and that have specific uses such as our flag cases. From the conventional style of our Howard Miller collection of fine wood cabinetry for upscale home, retail, school, and professional settings to the more modern the Grace Tyler, EuroVu Simplice, Originale, and Moderno lines, we offer presentation and storage solutions that blend nicely in both casual and upscale homes and commercial businesses.