Mid-Size Showcases Are Available in a Variety of Configurations & Designs
---
Mid-Size Showcases offer Differing Style Options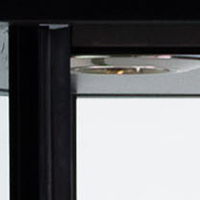 What is the best way to allow customers to look at collections or collectibles without touching? Our mid-size showcases call attention to displayed contents or highlight valuable articles while keeping them safe. Many of these particular showcases are frameless in design to enable unobstructed viewing of awards, collectibles, objects, and other items. Full vision mid-size showcases work well in any environment, as they draw interest from every vantage point. In addition to being full-view configurations, the display cabinets offer wide construction. Another great attribute of mid-size showcases, also called full vision vitrines, is their tempered glass production. Glass that has been treated for strength is safer for any setting, which is why so many different locations choose these models. In applications from high school hallways to retail showrooms, these display cabinets protect both the valuables within as well as any onlookers. Most options even include locking doors to keep important pieces protected from robbery and vandalism.
What makes cabinets in this width range such practical fixtures?
Sleek and modern designs allow for these mid-size showcases for awards to be used just about anywhere.
Several finishes provide solutions that will match a number of décors or atmospheres.
Tempered glass and MDF construction makes these units longstanding enough for implementation in high traffic locations, such as a middle school hallway.
Traditional and contemporary styling meets the requirements of every setting, from a utilitarian school to an upscale retail location.
What are the advantages of wide full-vision display cabinets?
Perhaps the premier feature of the cabinets for trophies is the unique full-view layout. Enclosures that allow for 360° viewing while protecting priceless exhibits are very popular among many shoppers.
The showcases also come with frameless designs that make them appear seamless. Whether you choose a unit from the Howard Miller, Grace Tyler, California, EuroVū, or standard line, the layout with permit the contents of the fixture to be seen from any position within a room. The rounded and squared sides add distinguishing style to trophies, awards, medallions, collectibles, certificates, and more.
Shelving provides storage for all kinds of relics, knickknacks, heirlooms or retail wares. Whether you possess a doll collection or simply require a display for trophies, these fixtures have satisfactory space to share collections or objects while keeping them protected.
Fabrication is required for these display cabinets, as the production is frameless; however, the process of setting them up is simple. The units are shipped unassembled to keep transport costs lower, but each component fits together perfectly when users follow the straightforward directions.
These wide trophy cases are available in numerous designs, including oval, rectangular, and hexagonal shapes. Each features tempered glass. Heat-treating glass enhances its rigidity to avoid breakage. In addition, the tempered glass crumbles into small, rounded pieces rather than long, jagged shards. For this reason, retail store owners as well as school administrators can rest assured that in the event of an accident, both customers, staff, and students will be kept out of harm's way. Another interesting trait of most of these wider display cabinets is the availability of lighting. Lots of these options provide overhead lamps to feature goods. Some even offer both top and side lighting to make sure every piece is appropriately illuminated. Any of the illumination systems take advantage of lower wattage to elegantly accent any components while saving on the cost of electricity, as well. The easy-to-use switched electrical cord makes opening or closing your institution a snap, and users can even leave the lights on throughout the night to attract attention afterhours! Innovative designs allow for quick and easy fabrication. Each of the showcases is outfitted with a secure locking mechanism to make sure merchandise are protected from theft and defacement. Some units even come equipped with mirrored bases that reflect light and add depth to any exhibit. Either four or five adjustable glass shelves are supplied with these options to allow for plenty of presentation space. All these functional qualities make full vision display cabinets ideal for every purpose.