Hexagonal Trophy Cases with Lighting Feature Tempered Glass & Lights
---
Hexagon Trophy Cases in Natural or Neutral Finish Metal & Wood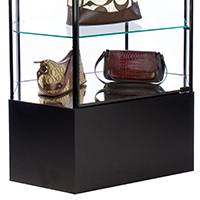 Need modern yet affordable hexagonal trophy cases? These display cabinets feature innovative six-sided designs that adequately advertise retail wares or highlight interesting collections. These glass hexagonal trophy cases with shelving give viewers an unobstructed view when viewing certificates, awards, memorabilia, objects, and especially trophies. In addition to unique and economical styling, the display cabinets are equipped with several protective features. High quality MDF and tempered glass are used to build our commercial-grade hexagonal trophy cases, sometimes called display towers, which makes them safe units for any environment. Panes that have been treated with heat or chemicals are much sturdier than standard annealed components and offer increase protection from injuries due to breakage. Shatter-resistant materials help keep customers, employees and contents out of harm's way. Because the enclosures are able to exhibit almost any articles (from trophies to archeological discoveries), school gymnasiums, professional businesses, galleries and museums are common locations, as well as schools, businesses and even private collections.
What kind of locations use this style tower display?
These hexagonal trophy cases are fantastic for retail outlets because they keep objects in plain sight yet out of the hands of dishonest or clumsy customers.
Academic and school offices, as well as gym locker rooms choose showcases for awards like these styles to celebrate scholastic recognitions or athletic victories throughout the years.
Hexagon-shaped displays for trophies are also found at corporate office entrances. Awards, plaques, and certificates of recognition are exhibited for guests and employees to examine while they wait or as they go inside.
Artwork galleries and historical museums share artifacts or artwork with visitors, while protecting them from damage. Curators and caretakers always ensure that exhibits are taken care of properly, so more attendees can revel them for years to come.
Some customers select hexagon displays made from glass for their residences. Collectors show off personal collectibles, including porcelain dolls, flatware, fine china, die-cast models, and other high-dollar items with these extraordinary fixtures.
Which features distinguish these trophy cases from other styles?
Five adjusting glass shelves are incorporated into each hexagon-design showcase. These shelves are made from 1/4" heat-treated material for rugged yet alluring presentations. Having enough flexibility objects arrangements is crucial for any industry player.
The production of these display cabinets integrates tempered glass. This material is heated or chemically treated for additional strength and more impact-resistance. Tempering also enables it to crumble into rounded chunks when broken similar to that of a car windshield. This construction helps keep employees, customers, and visitors safe during an accident, as well as the subsequent cleanup process.
There are four 50-watt overhead lamps positioned on the inside of each of the display cabinets, although, some of the showcases come with seven 20-watt side-mounted fixtures in addition to the top lights. These halogen bulbs are great for accenting individual merchandise. The subtle lamps do not obstruct the view yet provide enough lighting to present articles elegantly.
These retail towers feature mirrored decks located on the bottom of the inside. The mirror surface reflects light from the fixtures, as well as adds profundity to any contents for a completely refined look.
One of the characteristics that separates these showcases from similar models, is the slim MDF skirt. Other options have tall platform-style bases that double as shelves; however, these display cabinets feature a thin design that shrouds the wheels attached underneath. The casters make maneuvering within a centralized location a simple task. Moreover, the small amount of MDF used in the designs makes for lighter weight assemblies. Because these tower displays weigh less than other versions, the cost of shipping is reduced to offer customers even more savings.
Of course, we mustn't forget the lockable door. The enclosures for awards are equipped with longstanding locks that further protect valuables from robbery, defacement, and even accidental damage. The doors are hinged and swing open easily for access contained merchandise.