Square Cheap Trophy Cases | Economical Full Vision Glass Display Cabinets
Sorry, nothing is currently available here. More may be back in stock soon! For more details or help finding alternatives please contact us via phone or live chat during operating hours.
---
Square Cheap Trophy Cases - Affordable European Style Glass Showcases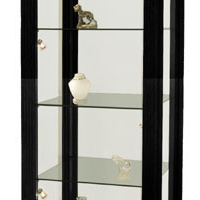 Are you afraid of the phrase "square cheap trophy cases?"? We source the finest designs available on the market, so that even our most inexpensive models are stylish, well-made and look elegant in any surroundings. The frameless glass enclosures in this category are part of the modern-looking EuroVū "Simplice" line. These affordable, square cheap trophy cases are constructed using green-edge tempered glass, veneers in rich finish colors and feature many quality elements that make it hard to believe they are so reasonably priced. Expensive or custom-made store fixtures can make huge inroads into store profitability, or quickly eat up institutional budgets. These square cheap trophy cases, also known as discount display cabinets, provide the look and feel of much more expensive cabinetry without the price tag. Our huge online selection of merchandise displays ranges from the highest quality to the most economical fixtures for home, school or store, all of which are available with wholesaler pricing and fast delivery.
What features do these discount display cabinets offer, if they are so affordable?
Our square cheap trophy cases are made from top-quality materials. Each vitrine is made from tempered glass, which, unlike plate glass or acrylic, resists cracking, scratching and chipping. The green-edge glass is not only attractive but protective as well, since tempered glass does not shatter on impact, but rather breaks into small rounded pieces that are safer for public environments.
Each of these inexpensive square display cabinets features specially-made corner-mounted hinges that support two full-length clear access doors. A key-lock secures the door enclosure to provide additional security for valuables. An affordable alternative to traditional sliding panels, the hinged doors at the back of the trophy cases allow full access to contents, but provide full protection when closed and locked. Locking enclosures are appropriate for store, school, business or even home use.
These square trophy showcases are available with three different illumination options. The most inexpensive options are the cases without any built-in lighting fixtures. This style has a full-glass top that lets the ambient lighting within a store, room or hallway brighten the display. Other models offer built-in top-lighting in the form of two 35-watt halogen fixtures. Finally, the top of the line of these inexpensive vitrines provides both top and side lighting for maximum illumination.
Although the shelves in each of these commercial-grade discount display cabinets are made from tempered glass instead of cheap acrylic, the fixed-height shelving also helps save on final cost. Each unit features four non-adjustable shelves that are held firmly in place by metal shelf pins. The roomy 12-3/4" height of the interior shelves allows objects in a wide variety of sizes to fit easily inside. The bottom shelf offers an additional 2 inches of display height for larger items.
The base of each unit (and the top as well on models with interior lighting fixtures) is made from economical medium-density-fiberboard (MDF) with a wood-finish laminate covering that mimics the look of expensive wood. A number of rich finish colors are available that can easily coordinate with any store or home décor.
A final reason for the inexpensive pricing of this line is that each square trophy showcase will be shipped unassembled to ensure the lowest possible shipping costs. Detail assembly instructions are included, and our site provides comprehensive video instruction as well. Additionally, our top-notch Customer Service team members are easily accessible via phone, live chat and email to help with any concerns.
These glass curio cabinets are versatile display cases with many different uses. Despite their low price, the models in the EuroVū Simplice line are suitable accessories for use in retail store environments, institutions, galleries, businesses and even private residences. Differences within the stylish, European-looking line allow the cases to be tailored to the intended use for the best match possible at the most affordable pricing.
Where and how can these cases best be used?
Retail store merchandise displays: Jewelry, electronics, clothing accessories, collectibles, cosmetics, jewelry.
School/institutional collections: Sports trophies and awards, plaques, academic awards and medals, memorabilia, historical school alumni exhibits.
Commercial business display: Archival photographs, prototypes, corporate awards and plaques, historical memorabilia, specialty offerings.
Gallery/exhibit housing: Artwork, pottery, jewelry, antiquities, photographs, historical memorabilia, commemorative plaques and displays.
Home/residential use: Private collections, memorabilia, artwork, sports trophies, awards and medals.
As private showcases, these curio cabinets are fantastic furnishings for any home. The locking mechanism helps to ensure that the valued treasures (whether of monetary or sentimental worth) remain safe and sound while on display. Whether you collect old cameras, lego or china figurines, photographs, sports or movie memorabilia, flatware or Native American jewelry you will find that these showcases let you enjoy your treasures while keeping them safe from dust, damage, tampering or theft. Sports trophies, awards and medals will likewise be showcased with the highest visibility in the safest manner possible.
The need for interior lighting can in many ways depend on the contents of the display. Sports trophies, plaques, awards and medals, while large, may need direct illumination in order for engraved information to be clearly legible. Smaller objects such as china, electronic merchandise and collectibles may be visible using only ambient lighting. Larger items such as luxury accessories, artwork and memorabilia displays may benefit from top-lighting, while galleries and museums may choose to incorporate both top and side lights for maximum illumination.
Whether used in home, store or school environments, the hidden wheels incorporated into each vitrine make it easy to reposition the economical glass cases as needed for merchandising, cleaning or exhibit design. Four non-locking caster wheels are concealed behind the skirted bottom housing of each case, giving the display the look of solidity but affording superior ease of movement.
Acrylic casings are inexpensive, and most of the time they look it. Scratches, unstable shelves and cloudy vision can unfortunately quite common when the wrong materials, such as acrylic and other lightweight plastics, are used in construction of larger showcases. These inexpensive glass EuroVū Simplice models are a combination of the best materials at the lowest prices with the most economical construction. Perfectly suited for use in any store, school, private home or business, these economy displays will look like a million dollars when in use but not break the budget when ordered.