Rectangular Showcases in Rich Finish Colors Come in Sizes up to 72" Tall
---
31" to 40" Wide Rectangular Display Fixtures in Glass/Wood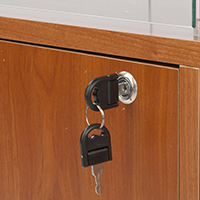 What is the greatest advantage of using rectangular display cabinets? This style glass and wood trophy case for awards can be used in both residential and retail environments. Retail stores often use rectangular cabinetry to showcase valuable objects because it keeps merchandise protected while looking great. Homeowners also employ this type of display fixture to share collections, photographs, and other personal effects in living rooms or dens. Elegant glass rectangular cases, sometimes called memorabilia cabinetry, are also common features in a high school hallway or university hall of fame, where the protective display adequately presents athletic or academic achievement trophies and plaques. The trophy case is even used by museums to draw attention to a new exhibit or particular artifact. This freestanding style is typically positioned along a wall to allow onlookers a three-sided view of the contents. It is easy to see that these showcases are versatile enough to be used just about anywhere.
What special features and amenities do these trophy cases provide?
These rectangular awards towers are 40" wide, which enables articles of many different sizes to be displayed.
Additionally, three glass shelves are fixed within the enclosures. Each surface rests on the shelf pins to supply a stable presentation area. The bottom of the inside also serves as a beautiful wood ledge for even more storage space.
There are two options for lighting systems for these particular showcases. They come equipped with either top lamps alone or both overhead and side-mounted illumination fixtures. The 50-watt halogen bulbs offer a bright accent to any presented objects, trophies, school awards, collectibles or other high-dollar items. Four lights are located on the top of the inside, while ten micro lamps run along the inner corner.
A plunger lock and key set keeps the sliding doors in position when closed. This helps to avert theft or damage to valuables. Guests or customers must only be able to handle expensive retail objects or priceless collectibles while you are present, as to prevent losses.
Another fantastic feature rests in the tempered glass construction. These display cabinets are engineered to keep customers and employees safe if they are damaged. Conventional panels usually break into dangerous shards that are risky to clean up. Tempering components results in improved rigidity; however, if it does break, the probability of injury is reduced. Tempered glass fragments into smaller, rounded pieces to make disposal and cleanup a safer process.
What are some examples of the different uses for these trophy cases?
These displays for trophies are optimal for retail shops that benefit from keeping wares in plain sight but out of the hands of customers.
Many shoppers purchase these display cabinets to use in their homes. Showing cherished figurines, memorabilia, or china collections becomes an easy task with these unique fixtures.
Museums keep one-of-a-kind artifacts on display for visitors both young and old. Theses showcases fend off curious hands in order to ensure everyone gets a chance to view exhibits for many years to come.
These enclosures for awards are sometimes set up by corporate offices to spotlight specific merchandise the company manufactures, as well as trophies, plaques, or other special recognitions.
High school gymnasiums and locker rooms select cabinets like these to highlight victories, championships, and dynasties from years past.
This series of display cabinets is packed and transported with extra care to ensure that there is no shifting or breakage during transit. The showcases are shipped with "tip-and-tell" stickers that change color when the units are tipped excessively during transport. Customers should inspect this indicator prior to signing any receipts. The displays also feature an instructional video on how to unpack them. In addition to a huge selection and low, wholesaler pricing on every cabinet, we offer a full variety of shipping and assembly choices to accommodate all our of customers' needs.