Extra Wide Showcases are Large Enough to Hold Full Collections
---
Extra Wide Showcases for Merchandise, Collections or Gallery Displays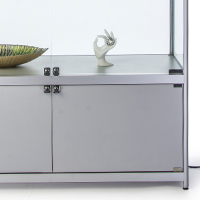 How do extra wide showcases differ from traditional display cabinets? Premium showcases, like these, typically feature a variety of traits that make them great for use anywhere! These extra wide showcases, frequently used as merchandise or trophy cases, can be installed in libraries, halls of fame, museum galleries and other locations where their beautiful designs not only accentuate any contents, but also highlight existing décor and fixtures. Additionally, enclosures for school achievements are quickly becoming commonplace fixtures among retail stores and commercial establishments, where they exhibit a clear view of valuable merchandise. These commercial grade extra wide showcases feature construction from only the finest components. As a result, the display cabinets will withstand the daily grind of heavily trafficked stores, institutions, and halls. Several of the trophy cases have tempered glass construction to protect staff members and customers or visitors in the event of breakage. Frameless configurations are part of the latest improvement when it comes to showcases, and these models are highly desirable. With so many advanced options, customers can easily find the best trophy cases for every application. Visit our vast live inventory for a wide variety of choices that adequately display trophies, plaques, artwork, knickknacks, or historical relics.
What are the advantages offered by wider width display cabinets?
These extra wide showcases draw attention to valuable goods or fragile collectibles while keeping them safe from curious hands and unnecessary damage.
Merchandisers and retail proprietors often present merchandise with light fixtures to focus on specific details or ornamentation.
These wide selections are floor-standing or against-the-wall models that provide plenty of space for a full assortment of presentation options.
One of the foremost features of these showcases is that they are engineered for both retailers and homeowners.
TrophyCasesNow.com supplies wide trophy cases for school or retail use in all sorts of sizes and layouts. One of the central features that separates certain types of display cabinets from others is whether or not they are equipped with interior lighting. Designed-in illumination allows for customers to view the intricate details of objects or art, and is a very noticeable option. Another choice deals with the layout of the enclosures themselves. There are a number of styles offered, including corner cabinets, standalone showcases, awards cases for the wall, countertop fixtures, and traditional wooden displays, but these are the widest options. Of course, choosing the proper enclosure has much to do with personal preference and usage. If you intend to set the units up in the middle of the sales floor, then full vision versions are optimal. Curio display cabinets with mirrored or solid back panels are ideal for placement against walls. Whether you operate a conventional antique store with vintage motif or a modern jewelry store with an upscale atmosphere, there are showcases that answer the call. Some users revel highlighting family keepsakes in their homes. For this purpose, our company offers wood cabinets for trophies from Howard Miller.
How can I know which cabinet for school awards is best for my display needs?
Retail managers and store owners often select full vision housings that feature transparency on all four sides because they offer customers a 360° view.
Fancier display cabinets made from solid wood are engineered for residential environments, where they exhibit curio, china, and flatware collections.
When exhibiting trophies or school awards, showcases with interior light fixtures are idyllic, as they properly illuminate achievements and successes from past years.
Most of these cabinets for awards, trophies, and collectibles are shipped unassembled, although some showcases are delivered as complete, palletized units. The variety of shipping techniques allows TrophyCasesNow to either keep prices down for customers or save buyers the hassle of fabrication. When shipping glass, it is often safer to send the housings in pieces because the packaging department can better secure the components. The less space the objects has to move around, the less likely it is to become damaged during shipment. Fabrication for all of the display cabinets is straightforward, and instructions are enclosed in each package. If customers require more assistance, instructional videos may be available online, depending on the model. A visual reference in real time is always helpful when it comes to assembling store fixtures.