Rectangular Cases with Dividers include Top or Side Lighting Options
---
Rectangular Display Cases are Available in Many Configurations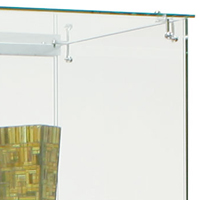 Looking for rectangular cases for awards with built-in lighting systems? The trophy case styles featured here are available with overhead lighting standard, although side-mounted track lights are an additional option. The California line of rectangular glass towers is quickly becoming one of the most popular choices for both commercial and residential uses. The rectangular trophy case, sometimes called an enclosure for trophies, is used to present a large range of merchandise. From a treasured collection of memorabilia to expensive objects, like jewelry, china, and electronics, any ware or collectible can be highlighted. This style of display fixture has a tall, wide configuration that allows it to keep many goods in plain view, as offerings can be positioned at eye level. The display cabinets are highly favorite amongst retailers and vendors that want to create retail presentations. Though the trophy case is frequently implemented in business environments for merchandise or award display, it is also suitable for residential collections.
What are some of the display cabinets' most useful features?
These rectangula retail towers offer ten adjusting shelves that are all made from tempered glass. Each surface measures 1/4" thick to help accommodate heavier articles. The adjustability of the shelving allows for several setup options, including a staggered look. With so much freedom, users can get very creative with their displays.
Just like the shelves, the entire showcases are crafted from tempered glass. This material has been either heat or chemically treated for strength. Another advantage is that in the event of breakage, the glass will crumble rather than shatter, keeping customers and staff safer from injury.
The layout of these display cabinets are see-through and do not include back panels. For this reason, viewing the contents is easy for visitors and customers, as no vantage point is obstructed. Full vision showcases are becoming very popular for those with modern or upscale atmospheres. Additionally, buyers can choose from silver, maple, cherry, and black finishes to match their specific location.
Six 50 watt halogen top lights are recessed within the canopies of each of the models, but each style can be purchased with ten 50 watt shelf-level track lamps, too. In either instance, an easy-to-use switch is used for making illumination changes.
The sliding glass doors have metal pulls for easy opening and closing, while high quality key locks keep items safe from damage. Allowing customers or guests to look but not touch is the main characteristic of any appropriate housing.
What some of the most common applications for showcases?
High school hallways or university offices are perfect for exhibiting trophies or awards from past years. The bright lamps on these units prominently accent athletic and academic achievements, which helps to unify a school's student body. Awards and trophies are meant to be shared.
Many times, private collectors exhibit personal effects and other collectible items to visitors in their homes. The numerous finish options supply enough versatility give any residence a refined and irresistible appearance.
Retail stores and other businesses typically use display cabinets that are both contemporary and functional in design. Purchasing the version that gives users the proper amount of usability yet still blends in with a particular environment is often difficult, but these showcases consolidate both capabilities for the ideal selections.
Retail showcases and display cabinets are built with business or company owners in mind. These models have hidden wheels mounted to the underside, which make it easier to underneath the units. In addition, the casters enable effortless mobility, so the cabinet can be relocated within a centralized location. These large display fixtures are quite heavy, so once they are in place, minor bumping is not likely to move them. For even more strength, a center panel is affixed to the middle of the inside for increased durability and structural integrity.
These display cabinets will advertise best-selling objects or cherished collectibles with style. The enclosures feature one of four finishes for the base, canopy, and central divider. In addition, a number of lighting choices are available. All the glass surfaces of the showcases are made using tempered glass, which is a safer alternative to annealed components. Each half of the housing features five shelves. The shelving is adjustable, and clearly provides a total of 12 display levels, so most items will fit within the unit. The doors slide open for easy access yet lock with strong mechanisms to keep curious hands at bay. The combination of so many great attributes makes these showcases a viable option for any retail or residential location!