Rectangular with Raised Base offer High Visibility for Collections
Sorry, nothing is currently available here. More may be back in stock soon! For more details or help finding alternatives please contact us via phone or live chat during operating hours.
---
Rectangular Display Cabinets with Raised Bases for Business or Residential Collections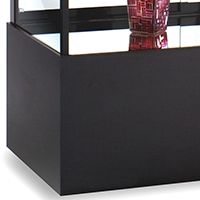 Do you need trophy cases that are rectangular with raised base? This type of glass and wooden display cabinet is manufactured with quality components and craftsmanship. As a result, rectangular with raised base showcases are versatile enough to be used in residential or commercial settings. For example, freestanding cabinets are frequently positioned in business lobbies to display awards, collectibles, or other valuables that require protection. These trophy cases are ready to use upon delivery. Our commercial-quality rectangular with raised base trophy or collection display furniture models include are some of the largest styles, so customers should be certain that the fixtures will fit through any necessary doorways before placing an order. The showcases feature sliding doors that lock, as well as tempered glass construction, which protects both the assets within and viewers. The safety glass makes these retail display cabinets much less hazardous in the event of breakage, as well. See all the choices when you visit the online store.
What are some considerations when choosing a display case?
Our rectangular with raised base enclosures have three adjustable 3/8" glass shelves that can fit a large variety of merchandise. Several display setups are possible, which make these designs some of the most dynamic options available.
Six adjusting floor levelers are integrated into the layout, so the unit may be used in any environment. The levelers can also be removed if a location calls for it.
As stated above, tempered glass is used in the producing process. The heat or chemically-treated material is both safer and stronger than other materials.
The display cabinets have two sliding doors, and each is outfitted with a locking mechanism. This feature allows merchandise to be kept accessible to staff members yet out of reach for customers and visitors.
The lighting system is controlled by a switched cord, so lighting changes are simple and straightforward.
What are some considerations when choosing a display case?
Many times, retailers and other business owners choose more traditional styles that have ornamental designs. These retail models offer any location a beautiful and decorative accent.
There are a variety different finishes offered, including black, silver, oak, maple and cherry. The variety of colors allows the buyer to pick the option that meets his or her specific needs.
Showcases that come with just overhead lighting are perfectly functional for most applications, but some locations or displayed goods may require both top and side fixtures. Using two types of lamps provides the right amount of illumination for accurately highlighting trophies, awards, or other collectibles in school hallways or corporate offices.
These display cabinets measure 75" wide and 82" tall. Several finish options are available, including oak, maple, black, and cherry. In addition to the wide selection of finishes, the showcases are fitted with six 50 watt halogen bulbs, which are mounted into recessed fixtures within the canopy. Some models feature both top and side lighting. The side-mounted track systems utilize seven 20 watt lamps to illuminate specific items or details. Trophies, awards, and other prized possessions will look great when they glow for all to see. Each unit also has adjustable glass shelves, which allow for a number of presentation options. Sliding doors are equipped with locks to ensure any contents remain safe and secure. All of the glass used in the producing process has been tempered, which makes the showcases ideal for applications where the public is present.
A massive array of display cabinets for retail or school locations are sold in a variety of sizes and configurations. There are other narrow furnishings that have either contemporary or conventional wood designs. These offerings have smaller footprints, yet still supply enough presentation space for a plethora of objects or personal valuables. Wooden corner-style Howard Miller curio cabinets allow buyers to conserve space in businesses or homes, as well. The options take advantage of otherwise useless corners in hallways and rooms. Wall-mounted displays occupy no floor space, which makes them popular among many purchasers. The widest showcases are so sizeable that there is no question they will highlight entire collections or full lines of objects. Of the 75" w cases, most feature interior canopy lighting, but some enclosures boast designed-in top and side lamps. The side lights come preassembled on a sliding cable system, while the top lights are recessed in the tops. An additional amenity of the towers is shelving. Shelves are made from quality glass and typically either span the length of the cabinets or may be alluringly staggered. Locks come standard on every model, so important items, like knickknacks, awards, and other high dollar goods, are presented safely. Look through the E-warehouse categories now to find the style that most appropriately accentuates your retail business or home.